I almost forgot-we went to the Costco store that opened last week in Coralville Iowa.
Costco
Has stores all over the place, but this is only the 2nd one in Iowa.
I waited in line for about 45 minutes to get my membership card. I should have done it on line and then I wouldn't have had to wait in line. But Ididn't have anything else to do, and Hubs was paying, soooo.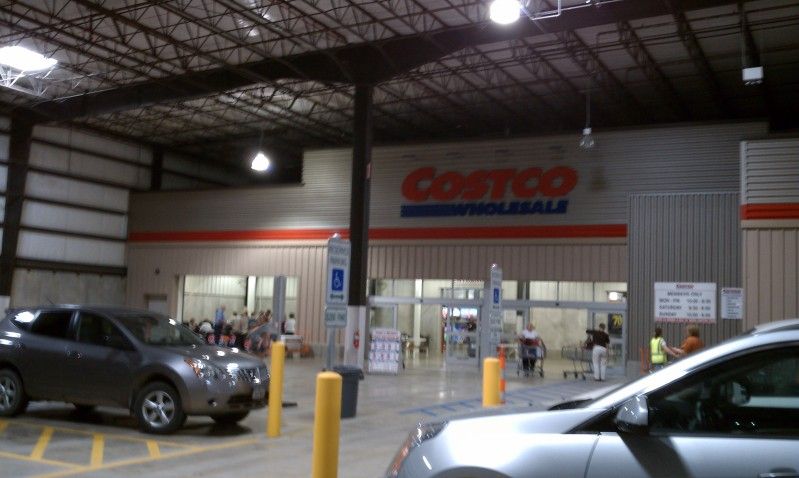 This photo shows the inside parking lot and entrance to the store. Those folks standing around on the far left of the picture are in line to get memberships. The indoor parking is really nice-not too hot! I think it will be great in the winter!
I only snapped one photo inside the store, I didn't want them to hate me. But it's a lot like a Sam's club. They have produce and furniture and meat and a bakery and a deli and an auto place and a little snack place and big TVs and computers and a pharmacy and a photo dept and an eyeglass place. On the day we were there they had folks handing out samples of all the food-if you're hungry, go in at supper time I guess. The prices seem pretty good, but I have to do the math to ensure I'm getting a good deal. We bought Charmin in a big pack of 30 jumbo rolls 866.2 sq feet total. It was on sale for 19.99, and there was a $2 Costco Coupon for $2 off. SO I paid 17.99. This week Target had Charmin Mega roll 18 pk on sale for 20.99 total 751.5 sq ft. So I did get a better price at Costco. .027cents per sq. ft at Target and .020 cents per sq ft at Costco. Don't make me figure out how much per wipe that is......