SO on Thursday after we checked in, saw the arch and got drenched in the rain, we decided to go out to eat somewhere local. We had seen the ad for Pappy's Smokehouse and the bloggers had given it good reviews so we thought we'd give it a try.
Pappy's is not a fancy schmancy place. Picnic tables, cement floor and the walls are papered with autographed menus from celebrities and tributes to St Louis more famous residents. You form a line and the menu is passed back down the line, when you get to the front, you order & pay and tell them your name, then when your order is ready the server comes out of the kitchen and hollers your name! Fun!
I had the pulled pork sandwich with deep fried corn on the cob and baked beans. and Hubs had the beef brisket minus bun with cole slaw & potato salad. It was pretty tasty. There are 3 sauces to choose from at your table and they were all good. Pappy's was also the best value. We paid only $21 for both meals including beverages.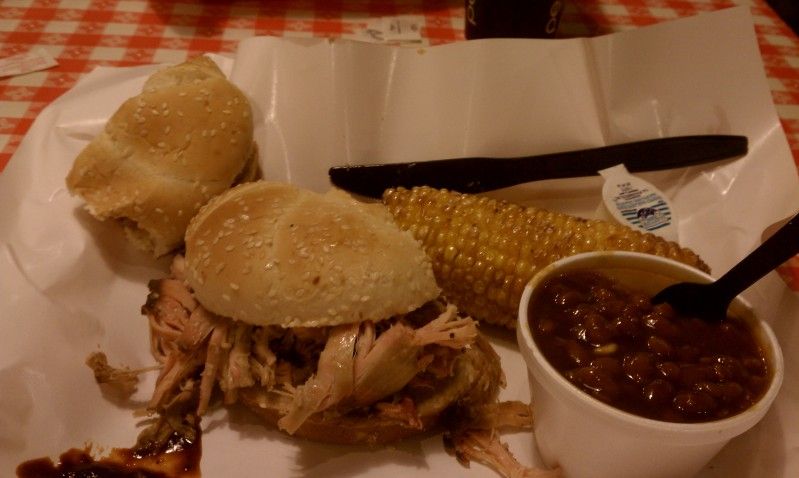 We were plenty filled up and we had to get moving because we had ticket for the riverboat blues cruise down at the arch. I didn't even take a photo of our boat-The Becky Thatcher, what was I thinking?!
Anyways the Soulard Blues Band played for us and the packed boat. It was very fun.
Outside on the deck I got a shot of the arch on the way back to the dock.
The group of girls that was at our row of tables took this picture of Hubs and me.
Doesn't the arch look pretty at night?
OK so I don't know any of these folks, but I just loved the man in the pantsuit. See him, kind of behind the girl in white capri pants? Yeah-it was too much!!! He was definitely a dancin' machine!
And this lady also was at our table-she was very mmmm artsy?, noooo, mmmm, stylish?...maybe....mmmm Annie Hall-ish-Yup! We had a good time and it was fun to go on the boat. Turns out it really was also a locals kind of thing to do too, so we chatted with a lot of local folks there.