So we got a really nice room at the Hyatt in St Louis. It was handicapped accessible with a roll in shower.It was clean and while a little small, we didn't spend that much time there so it was all good.
Seriously ugly art on the walls-except in the bathroom, LOL, there it was a cool photo of the arch!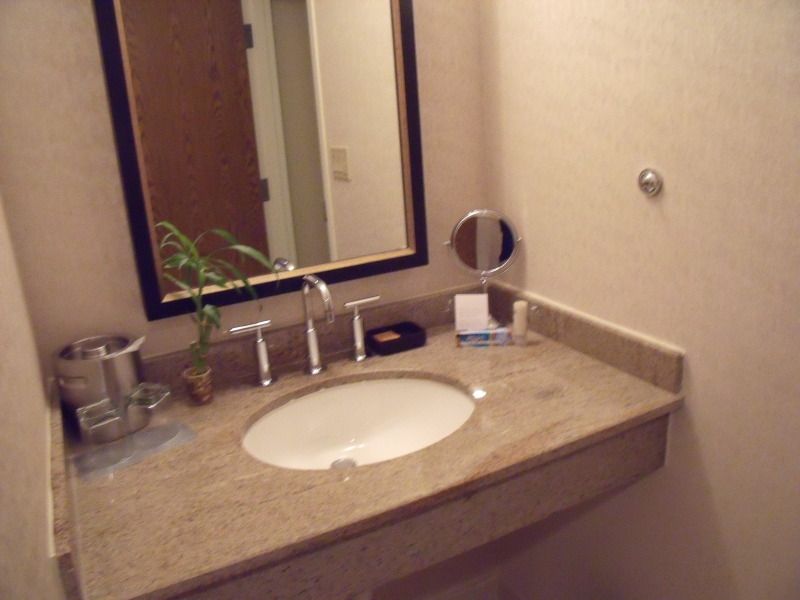 Look lucky Bamboo!
On the 11th floor, I had hoped to have a view...well if you look around the lamp and behind the chair, you do have a view of a corner of the Arch park, and the street that goes to the baseball stadium where the Cardinals play ball. Really?, who puts furniture in front of the window?
The lobby was really pretty-lots of marble-like floors and such. They have a Starbucks & Ruth's Chris Steakhouse in the lobby. They also have a bar/grill and a cafe where you can get the breakfast buffet for 15.95 each. We passed on that pricey breakfast. It was kind of fun to go in and out of the lobby because almost every time there was someone that would ask if you needed any help or if you were enjoying your stay.
The only complaint I have(besides no free internet in the room) is with the parking. We have found with almost every large city we have gone to that parking is a nightmare. It costs $20 per night to self park in the hotel parking facility. I don't mind paying, since I knew about it already-I just figure it's the cost of getting a room-it makes me feel better. But here's the problem.....
Yup, we got back from a day of sightseeing and the parking facility was full. Lucky for us, the handicapped space was still available so the valet guys let us in. All in all a pretty good stay. The location is really the whole point with the Hyatt I think. We walked to the arch and if a person wanted to go to any sporting event it would only be a few blocks walk to any of the big venues. It's true what they say.location, location, location!