So, DD is moving, and there is a couch and loveseat left in her condo that is just awful! I put getting rid of that mess at the top of my to do list. I warmed up my muscles and loaded them up in the pick up-reclining couches are NOT light- and made a trip to the local dump. Yes I hate to add to the landfill, but honestly, these pieces were just too awful to pass on to anyone! Buh bye awfulness!!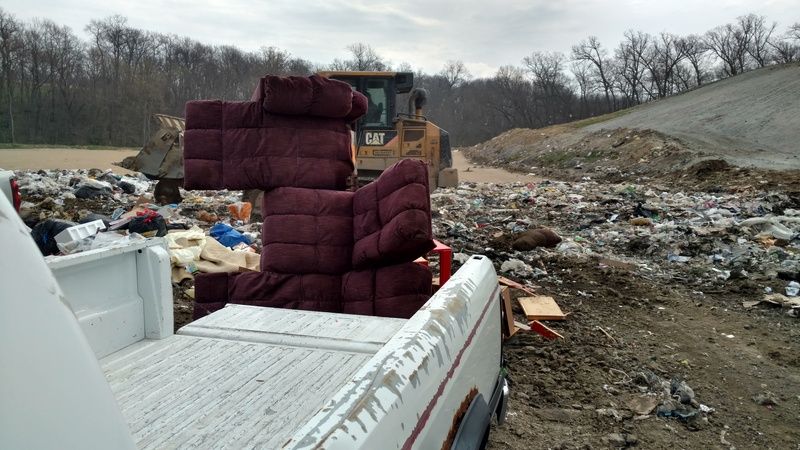 Then my next item was to get the riding lawn mower ready to go-the grass is growing like crazy! I knew I had a slow leak in the front tire last summer, I aired it up every weekend for my gardener. SO I got the wheel off and took it in to get it fixed. Unfortunately the leak was in the sidewall and couldn't be fixed so I had to get a new tire.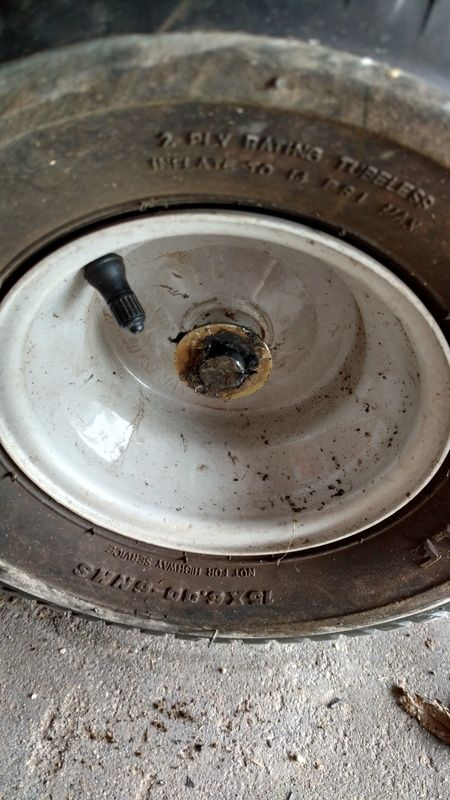 SO I got the tire back on and checked my fluids and thought I'd be ready to go....well darn it it won't start. I really should take better care of the battery, it was pretty corroded, so I got the baking soda after it and, I put the charger on it and hoped for the best!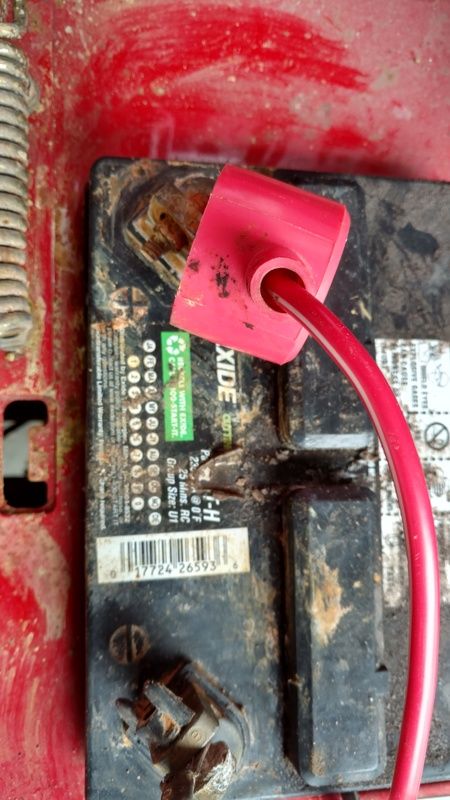 Well the charger says it's good to go, but still no starting for the mower, so I went to town AGAIN! and bought a new battery.
Now only one more thing, get the old battery out and put in the new one. Wouldn't you know it the cable on the positive side wouldn't un-bolt for anything! I WD-40'd it and tried every tool I have to get it loose and ended up breaking the cable...now I wonder if my cable was bad to begin with, Oh well, I've got the battery so now I need to replace or repair the cable. Off on ANOTHER trip to town.
The cable has a little fuse wire on it and I couldn't locate a cable like that anywhere! So I just got a new end loopy thing and put that on and I got some new bolts too. Those things are a pain! You'd think there'd be a better way to connect a battery. I don't have a crimping tool, and it was HARD to get it on there but I got it!!!
Looks good-fingers crossed.....And Hallelujah! It started right up!! Too bad it's raining now! Mowing will have to wait until Sunday when I'm expecting about 14 people and 6 dogs to come for dinner. So the next to do list item is to get a table in from the garage.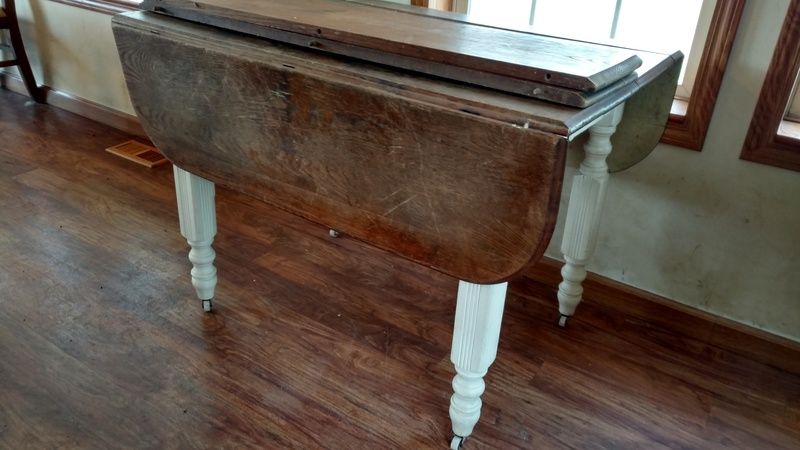 This antique table belonged to my old friend who now is in assisted living. When she moved I helped her sell and move and donate almost her whole house. Nobody seemed to want this table, but I really thought it pretty cool. SO I just stashed it in my garage all this time. Don't judge...and no hoarder references please! It has two leaves and the ends drop down so it doesn't take up much space.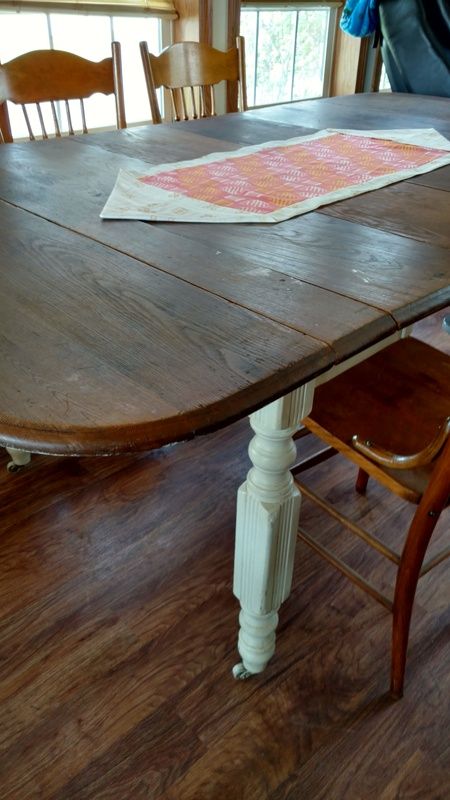 I think it was happy to have people sitting at it after all these years! It worked out perfectly!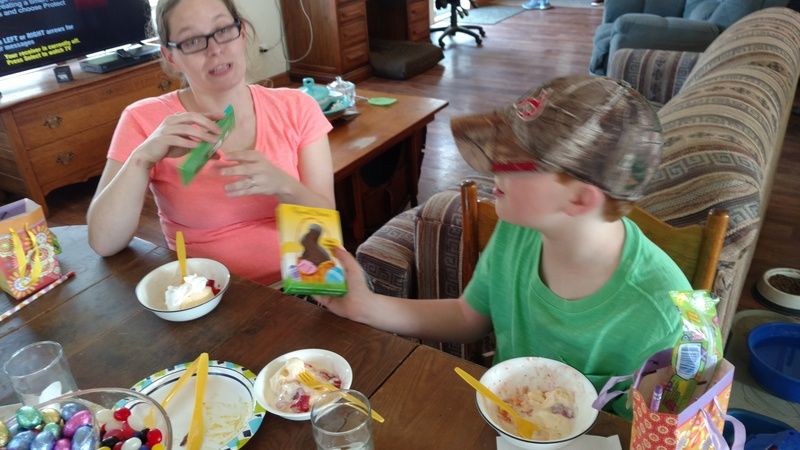 I also needed some springy/Eastery table decor, so I whipped up a couple of the 15 minute table runners out of some fabric I had on hand. I mean, my to do list was almost done so why not stop and sew a little, right?! I love this ice cream print and paired it with the Iowa shop hop fabric from a few years ago that I had been holding on to for no good reason. Pretty! That pretty much covers the to do list for last weekend!
Other than the non blog worthy-ness of things like vacuuming, and cleaning the bathrooms. And I was totally negligent and didn't take food pictures! Hubs made one of the best hams I've ever eaten and a wonderful macaroni and cheese and cole slaw! Julie brought a delicious pasta dish, Bean brought ice cream and strawberry shortcakes for dessert and we all had a great meal. Mom brought her deviled eggs-an Easter favorite! Amen!