So first I had to do a little bit of mending. A patch on a patch, a patch here and there..... DOne with Hub's jeans...he rubs a bare spot on his jeans with his pencil eraser.
These jeans belong to DD's friend. He's pretty hard on work jeans it looks like to me! But this ought to hold him together!
Now this T shirt for hubs. He burned a cigarette hole in the pocket. I stitched it over, but that didn't look so good. So I un sewed the top part of the pocket and added a band to cover the mended hole LOVE the paisley pocket!
One more pair of jeans to patch...there now I can move on to the dog collars-oopsy I forgot to take a picture! Riley has trouble with her brother Finn, ripping her collar off of her and chewing it. I had enough left un chewed to make one collar. I'll need to shop for some webbing to fix the rest.
I want to finish this quilt today! I had to make a stop at the JoAnn store to get some backing for it.
They call it Soft and Minky.....it's ok. The pattern with Big Foot...I mean Darrell, is called Legendary and is designed by Elizabeth Hartman.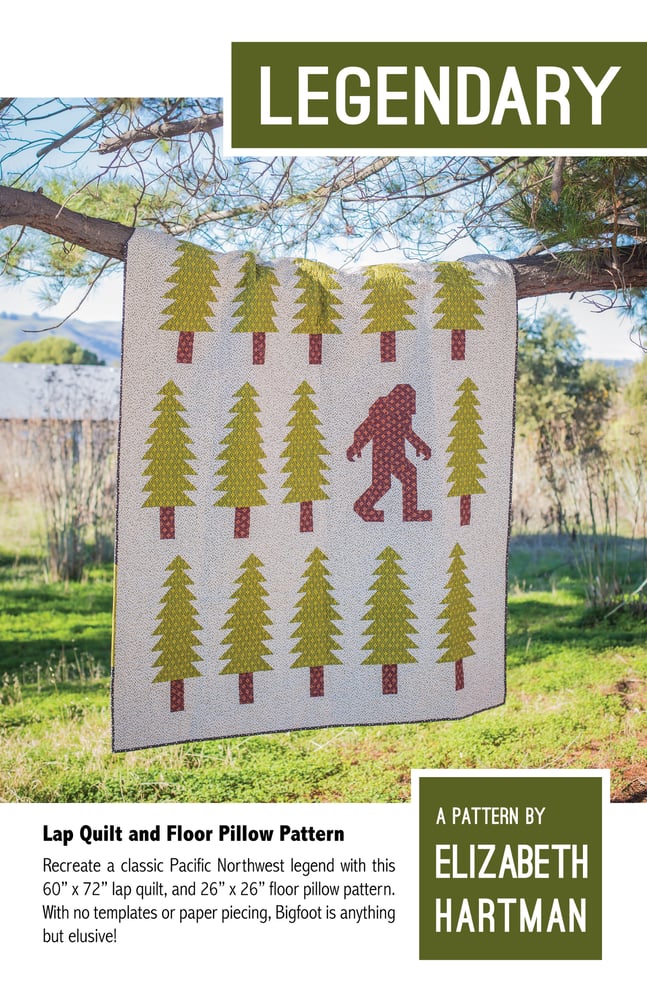 SO I started it earlier this month to work on between mystery quilt clues. It went together pretty easily!
The hands were a little tricky-there are 7 pieces in one hand!!!
And the trees can together really well too! I made them out of all the same fabric-lots of folks on line made them with multiple green and brown shades. It went pretty quick-I had it done before the mystery quilt that's for sure!
Here it is all done!
With the Soft and Minky on the back. I spray basted it on the kitchen counter-it's far too cold outside today and the spray baste doesn't hold well in the cold.
I used the same fabric for binding as I used on Big Foot. Then I just used some brown variegated thread to do a big meandering quilt job on it. Not my best work, but perfectly adequate. I'm a little out of practice.
Funny thing-see that one background block looks a little darker? Well I chose to use the wrong side of the fabric for this quilt, because I wanted to use what I had on hand, but I wasn't fond of the hat print, so I used the wrong side. You know what they say..."you paid for both sides of the fabric, so use it!"
Anyway, there are several background blocks that are right side/wrong side up. It makes a very vintage look to the background. I should have done more of them that way!!
I just finished snow blowing the driveway, so I hopped outside to hang this quilt up for a quick photo op.
The backing was perfect-not one wrinkle and the binding was really good too! It finished at something like 60"X 72" I'm sure my background setting borders were a little bit wrong, but it came out great!